Microcontrollers Embedded Design
---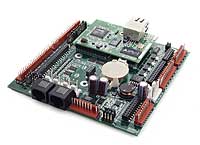 Put Vnisource's experience in microcontroller embedded systems design to work for you. With extensive knowledge in embedded hardware and firmware design, we can efficiently develop high quality and cost effective solutions to your microcontroller-based embedded application.
Our engineers have on average 10 years experience in embedded development covering an extensive array of microcontrollers and microprocessors and embedded operating systems using many various programming languages.
A quick summary of our talents are:
Embedded firmware (8051, 80x86, 68HC1X, Z80, RABBIT, PIC, …)
Hardware development (schematics, PCB layout, prototyping, debugging)
Project Management
All TCP/IP microcontroller-based solutions (RCM3XXX and RCM2XXX RabbitCore)


Other capabilities:
System Design
Low, Full and High Speed Ethernet devices and development systems
TCP/IP Host product development
Telephone/Video Security systems
Windows based network management systems


Hardware Design
Ethernet peripherals
TCP/IP Host devices
Wireless communication components
Microprocessor systems (8051, 80x86, 68HC1X, Z80, RABBIT, PIC, …)
Interfaces to Flash


Software/Firmware Design
Windows XP/ME/2000/98/95 application and driver development
Real-time embedded applications
Protocol and control
Embedded OS development
C/C++, Assembly language for all processors
Visual BASIC


Let us help you get to market FAST! Contact us now to discuss your project development needs and we will provide an affordable and efficient quote. Put our experience and enthusiasm to work for you. Simply fill out the project request form, call us at (469) 675-0267, or email at sales@vnisource.com.